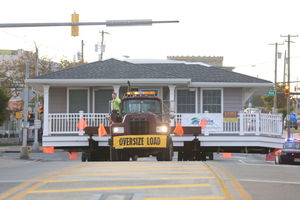 Prospective purchasers of real estate, and many owners, sometimes ask whether they need a survey.
Unfortunately, it is a question best answered either by obtaining a survey, or by later discovering you should have had one!
For an example of later discovering you needed a survey, consider the following recent, and unfortunate, situation.
Building On the Wrong Property
A developer who had owned a waterfront parcel of land in Narragansett, Rhode Island since 1984 engaged an engineering firm to prepare a subdivision plan in order to seek town of Narragansett approval to subdivide the property into two buildable lots. That approval was granted. In 2009, the developer sought municipal approvals to construct a house on one of the waterfront parcels. In seeking these approvals, the developer engaged another engineering firm to prepare development plans for the project, which showed property boundaries, the structure, and the individual sewage disposal system.
The developer constructed the house and negotiated a purchase and sale agreement for approximately $1,800,000. The buyer, as a part of his due diligence, engaged a registered land surveyor to conduct a survey. That survey concluded that the house was wholly constructed on property owned by an abutter, not on the property owned by the developer. Worse, the property abutter was a charitable foundation committed to maintaining its property for public park uses. Worse still, that binding commitment required the foundation to pay $1,500,000 million if it allowed the land to be used for other purposes.
Not surprisingly, the foundation had every incentive to sue for removal of the house, which it did. After several years of litigation, the net result was a lower court order requiring removal of the house and a Rhode Island Supreme Court decision upholding the lower court. The purchase and sale transaction was, of course, cancelled, and the costs of moving the structure was estimated to be between $300,00 to $400,000.
Differences in Surveys
The Supreme Court decision noted that the plan prepared by the engineer for the house construction, which apparently relied on the first engineer's subdivision plan, stated that the "[d]epicted boundary survey conforms with a Class III standard as adopted by the Rhode Island Registration of Professional Land Surveyors." The Supreme Court further stated in a footnote that according to the Society of Professional Land Surveyors, "a Class III survey is defined as a 'data accumulation survey,' which 'measure[s] and show[s] the relative positions or locations of physical features to a stated graphical scale…'" and that "[t]his definition includes the caveat that '[t]o the extent that property lines are reflected on such plans, they are to be regarded as pictorial only, unless such boundaries are also certified to a Class I, Class II, or Class V standard'" (see Rose Nulman Park Foundation et al. v. Four Twenty Corp., et al., 93 A.3d 25 [RI 2014]).
In other words, do not rely on a Class III survey if you need to know precisely where your boundary lines are located.
And while news reports of this case repeatedly referred to a survey mistake, surveyors are quick to note, quite correctly, that no survey was in fact involved because the plan at issue was prepared by a professional engineer and not a registered professional land surveyor.
The lessons for property purchasers exemplified by the Nulman case appear clear. First, without the benefit of a survey, you cannot be confident where the property boundaries are located. Secondly, even if something looks like a survey, it may in fact not be a survey. Both courts, in fact, found that even the experienced developer made an innocent mistake in relying on the engineer's site plan. Finally, even if it is a survey, not all surveys will accurately depict boundary lines on which reliance may be placed. A Class III survey will not do so.
Getting a Survey
Accordingly, when purchasing property, particularly waterfront property or acreage outside of platted areas, it is entirely prudent to consider, within the facts of your particular circumstance, obtaining a survey stamped by a registered, professional surveyor. In order to accurately locate boundary lines, it should be a Class I, Class II, or Class V survey.
And when may you need a survey?  Reasons for a survey could include: when you need to know precisely where your property boundaries are located; when you need to know where your structures are located in relation to the property boundaries; when you need to know where easements are situated on your property; when you need to know whether something is on your property or your neighbor's property (i.e. was the tree that fell on the car your tree or your neighbor's tree?); when you need to know if you have sufficient area and dimension to do with the property what you intend; when you are seeking or will be seeking governmental permits that require a survey.
That list is not exhaustive but it gives you the idea.
After all, if you are going to go through the time and expense of moving a house, better you do so because you prefer the new location than because it is located on someone else's property!